Want your tattoo to be mysterious and symmetrical?
Then you absolutely need to get a geometrical tattoo. Geometrical tattoos are the kind that really sticks out and has that cool aesthetic vibe to it. Each geometric tattoo symbolises something significant and personal to the customer. There is no doubt that geometric tattoos make some serious statements out there. Geometric tattoos are finely inked with lines, shapes, dots and angles combining a mechanical touch to ordinary objects. On the subject of placement, it completely depends on the image and the idea behind it; If you want a minimalistic, tiny tattoo then the wrist, backside of the neck or the collarbone is a pretty good idea, but if you're planning to get a huge one, then try going for the thigh or the arm. Geometric tattoos can be anything precise or abstract, animate or inanimate, depending upon your preference and meaning of the tattoo. Geometric tattoos might appear to be predictable to others, but they have a mysterious meaning behind that only you can tell, it's like a tale you hold the key to.
Designs For You
Shapes joined
Geometric Animals
Elements
Mandala
Tribal design
Band
Tiny shapes
Matrix
Creative designs
Design it yourself
And many more
MEANING BEHIND THE TATTOO
Geometric tattoos might appear to be some mathematical figure in repetition but are a lot more than that. Geometric tattoos are perfection made of science and maths with deep meaning. History holds it true that geometric shapes have a mysteriously profound meaning that needs to be deciphered. Tattoos that are made using geometry usually mean something or are trying to se4n out a message about something or someone. These kinds of tattoos are difficult to understand or explain, but are very interesting.
These tattoos are used as a sacred spiritual ritual because they reveal the route to greater knowledge and understanding. Every part of this geometrical tattoo has a meaning and theme that needs to be understood to understand it entirely.
A geometric tattoo helps you build outlook and perception. These designs can inspire the surrounding people too.
TATTOO INSPIRATION FROM CELEBS
1.Lili Reinhart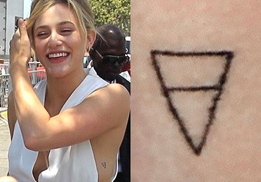 The Riverdale actress has a tattoo featuring the alchemy symbol for earth, an upside-down triangle with a horizontal line going through it on the left side of her upper body, ribcage. The tattoo represents her birth sign which is Virgo, an earth sign.
2.Noah Cyrus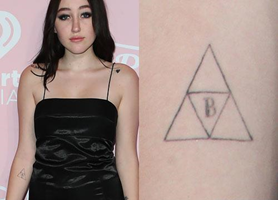 The talented singer has a figure of triforce symbol from The Legend of Zelda video game series with the letter "B" in the centre. She got this to pay tribute to her older brother, Braison.
3.Katy Perry
The fireworks singer got a prism tattoo for her album Prism. This prism isn't just any prism it has a cute face on it. Katy Perry has this tradition of getting cute tattoos to pay tribute to each one of her albums.
Camille Rowe
Camille Rowe is a French-American model who has a tiny triangle on one of her ears.
5.Julia Michaels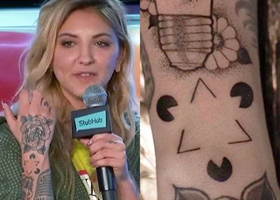 Julia Michaels has a very interesting tattoo design on her right wrist is something you need the knowledge to understand. It is the symbol of perception called the Kanizsa triangle, a famous optical illusion created by the Italian psychologist Gaetano Kanizsa in 1955. The tattoo design comprises three V-shapes and three incomplete circles that look like Pac-man.